Performance Concert
•
Salle des concerts - Cité de la musique
•
HIGH QUALITY LIVE AUDIO AND VIDEO STREAMED FROM THE GRANDE SALLE PIERRE BOULEZ (WITH BED AND BREAKFAST)

The Berlin-based composer takes the listener on an unprecedented journey of eight hours — something to be listened to from your bed! With Sleep, Max Richter pushes the boundaries of post-minimalism and questions music lovers' consciousness.


Important information about the Sleep performance:
(Salle des concerts - Cité de la musique)

     • What do I need to bring?

Your ticket gives you access to an unnumbered cot. Your bed will not be made up: you need to bring your own sheets, pillow, duvet, sleeping bag, or other bedding.

A cloak room will be available at the Cité de la musique, but not a specific changing area. Please arrive in your nightwear or change in the lavatories.

You will be given a small bottle of water (50cl) at the entrance to the concert hall. No food or beverages (other than the bottle of water provided) are allowed inside the concert hall.

The café-bar - Cité de la musique (ground floor) will open until 1am, with a selection of snacks and drinks on offer.


     • How will the evening proceed?

All spectators are invited to come to the Philharmonie's Grande salle Pierre Boulez before the concert for a presentation of the performance by Max Richter.

10.30pm: doors open to the foyer / ticket counter opens / doors open to the Grande salle Pierre Boulez

11pm: presentation of the project by Max Richter, then spectators proceed to their beds in the various viewing areas.

Midnight - 8am: concert. Important:
- It is imperative to arrive before the concert begins;
- Your ticket gives you access only to the area corresponding to your ticket; moving between different areas is not allowed.

8am - 9am: free breakfast for all spectators at the Philharmonie.


     • Other important information:

Please be respectful of the Sleep performance while it is underway, and take care not to disrupt the sleep of the people around you.
Use of your mobile phone must not disturb the performance. Please shut off your phone or make sure it is in silent mode. Photos and videos are strictly prohibited.
Camping equipment is not allowed in the concert hall; please bring only bedding!
Due to the security measures in place, agents will check bags at the entrance. Any unauthorized object(s) will be confiscated.
If you suffer from a sleep disorder, or for any other information, please contact us at contact@philharmoniedeparis.fr

The recommended minimum age for this concert is 12 years.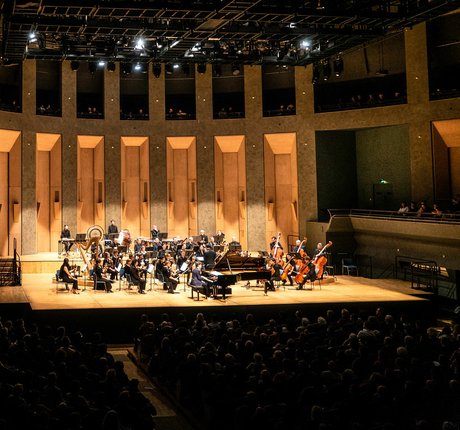 Getting here
Porte de Pantin station
M
5
Paris Underground (Métro) Line 5
3B
Tram 3B
Address
221 avenue Jean-Jaurès, 75019 Paris