Grande salle Pierre Boulez - Philharmonie
•
Duration: about
2h11
with 1 intermission
Program
Jean-Féry Rebel
Les Éléments
prologue (Le Chaos)
Erich Wolfgang Korngold
Concerto pour violon
Dmitri Chostakovitch
Symphonie n°7 "Leningrad"
A programme cast under the shadow of World War II, with Korngold's Violin Concerto symbolising his return to orchestra music after Hitler's defeat, followed by Shostakovich's poignant 'Leningrad' Symphony'. 
As a prelude to the concert, the stunning prologue (Le Chaos) of Jean-Féry Rebel's symphony, called Les Élements, seems to have been written yesterday.
Korngold's Concerto, which premiered in 1947 and was dedicated to Alma Mahler, reflects the composer's desire to return to concert halls after working in Hollywood during the war. For this renaissance, he composed a score whose virtuosity never smothers the vocal generosity, and whose three movements contain ample quotations from his finest film music. 
Shostakovich's 'Leningrad' Symphony', a vast war tableau, plunges the auditor into the anguish of the city under siege, blockaded by the German troops in 1941, but also crushed by totalitarianism under Stalin. Its four movements rival each other in brutal force, but are also studded with sarcastic interpolations, ironic pastiches and galvanising marches. Perhaps nowhere else, musically at least, have the torments of dictatorship and the devastating contradictions of war been so clearly captured.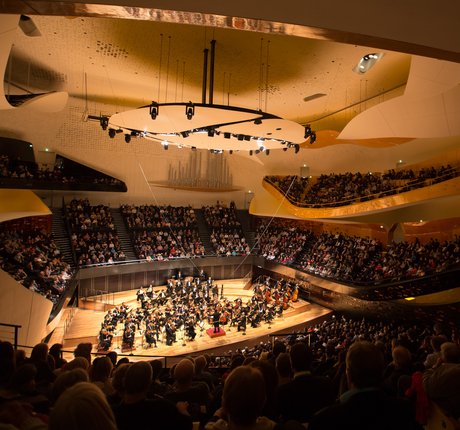 Getting here
Porte de Pantin station
M
5
Paris Underground (Métro) Line 5
3B
Tram 3B
Address
221 avenue Jean-Jaurès, 75019 Paris
To leave after this concert