Symphonic Concert
•
Grande salle Pierre Boulez - Philharmonie
•
Duration: about
1h52
with 1 intermission
Giuseppe Verdi
La Force du destin / Ouverture
Ludwig van Beethoven
Concerto pour piano n° 3
Piotr Ilitch Tchaïkovski
Symphonie n° 5
Nathalie Stutzmann
, conducting
Alexandre Tharaud
, piano
The overture of Verdi's opera—an orchestral tempest, with its constantly changing climate and architecture of a mini-symphony—sets the tone for this flamboyant programme centred around… the force of destiny. 
Added by Verdi for the reopening of Milan's La Scala opera house in 1869, the Overture of The Force of Destiny, a favourite in cinema, is a mix of dramatic horns and gripping waves, barely contained by a famous melody—plaintive and elegiac. 
In counterpoint to this sombre revenge tale is Tchaikovsky's Symphony No.5, with its four movements on a single theme, at times rhythmic and fateful, and elsewhere raised in noble chorus. For this score with its powerful contrasts in sound, dramatic climaxes, pastoral lyricism and even the unquiet elegance of the waltz, Tchaikovsky had imagined a storyline—which remained latent—involving a struggle with fate and ultimate resignation to it. 
The crowning piece, Beethoven's Piano Concerto No.3 offers its own dramatic and emotional power: before returning to joviality in the final Rondo, it explores the tragedy of the human condition, exquisitely expressed in the martial energy of the Allegro and in the nocturnal dreaminess, as if a gentle settling, of the splendid Largo. 
With support from the CHANEL Fund for Women in the Arts and Culture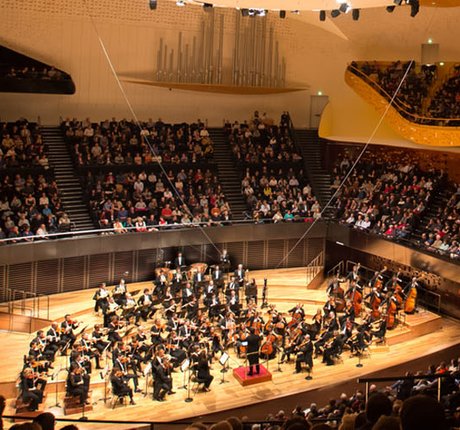 Getting here
Porte de Pantin station
M
5
Paris Underground (Métro) Line 5
3B
Tram 3B
Address
221 avenue Jean-Jaurès, 75019 Paris
To leave after this concert