Symphonic Concert
•
Grande salle Pierre Boulez - Philharmonie
•
Duration: about
1h50
with 1 intermission
Béla Bartók
Concerto pour violon n°1
Gustav Mahler
Symphonie n° 5
Jukka-Pekka Saraste,
conducting
Alexandra Conunova,
violin
Intimate and secretly romantic, Bartók's Violin Concerto is an ideal prelude to Mahler's masterpiece, which the cinema has made into a symbol of the tears of Eros. 


An early work that was to be premiered after the composer's death, this First Concerto is marked by Bartók's exaltation of love for the violinist Stefi Geyer, to whom it is dedicated. A rhapsodic spirit animates its two movements, the first of which, lyrical and meditative, was taken up by Bartók, under the title Ideal, in the first of his two Portraits for Orchestra. The still post-Romantic accents in this score open up the vast poetic fresco that is Mahler's Symphony No. 5. Organically linked, its five movements summon the energy of the dance and the rigour of the fugue, but not without the composer's own veil of irony. The Adagietto for strings, imbued with a sublime languor, inevitably evokes the images of Visconti in his film Death in Venice, inspired by Thomas Mann's novella.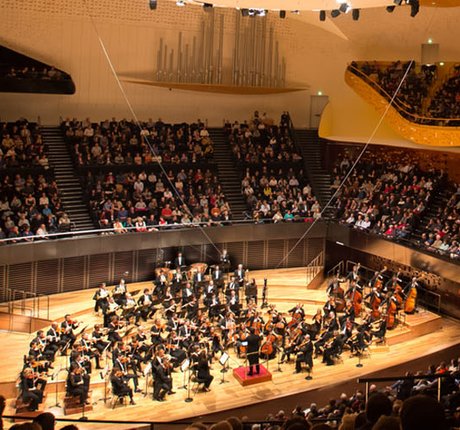 Getting here
Porte de Pantin station
M
5
Paris Underground (Métro) Line 5
3B
Tram 3B
Address
221 avenue Jean-Jaurès, 75019 Paris
To leave after this concert