Symphonic Concert
•
Grande salle Pierre Boulez - Philharmonie
•
Duration: about
1h41
with 1 intermission
Johannes Brahms
Concerto pour violon
Anton Webern
Six Pièces pour orchestre
Witold Lutoslawski
Concerto pour orchestre
Karina Canellakis
, conducting

To accompany Brahms' lyricism, brought to incandescence by the bow of Gil Shaham, what better than razor-sharp acoustic precision and refinement with Webern, and expressive elegance and range with Lutosławski?
Dedicated to Schoenberg, Webern's Six Pieces, with their sense of ellipsis, magnetic melodies, and pointillist precision, are an authentic invitation to listening. With its Bartokian title, Lutosławski's Concerto for Orchestra transfigures its folk inspirations through three movements, the last of which, 'Passacaglia, Toccata, Chorale and Finale', stands out as an extraordinary compositional feat.
Initially poorly received when it premiered in 1879, Brahms' masterful Violin Concerto demands implacable virtuosity. Its classical lyricism is accented with gypsy influences in the first and last movements, and the Adagio, imbued with dreamy effusion, is a dialogue between winds and solo violin—opening with a beautiful oboe solo.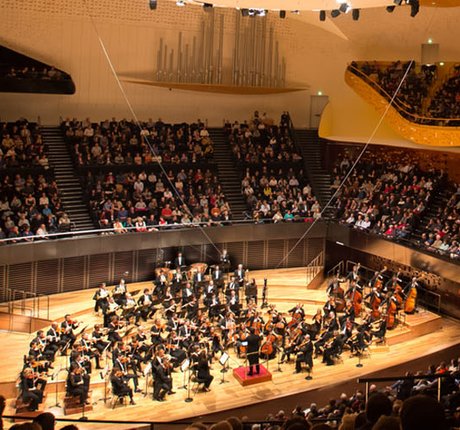 Getting here
Porte de Pantin station
M
5
Paris Underground (Métro) Line 5
3B
Tram 3B
Address
221 avenue Jean-Jaurès, 75019 Paris
To leave after this concert