Symphonic Concert
•
Grande salle Pierre Boulez - Philharmonie
•
Duration: about
1h41
with 1 intermission
Claude Debussy
Prélude à L'Après-midi d'un faune
Ludwig van Beethoven
Triple concerto
Johannes Brahms
Symphonie n° 3
Stanislav Kochanovsky
, conducting
Alexandre Kantorow
, piano
With a luminous Beethovenian dialogue between soloists and orchestra, Brahmsian majesty inspired by folklore, and sensual hedonism bathed in the ancient light of Debussy's Faun, the entire orchestral palette is here assembled! 
Prelude to the Afternoon of a Faun, the musical evocation of Mallarmé's famous poem, unfolds its dreamlike sensuality under the aegis of flute arabesques. Seamless blends of timbres and an aura of antiquity add to the sensory charm of this beloved piece, juxtaposed with the heroism of Brahms' Symphony No.3. Carefully structured, it combines the composer's unique fullness of sound with more dynamic and conflicting elements, sometimes enhanced by borrowings from folk music, such as gypsy and Hungarian melodies.
Expanding chamber composition into the concertante register, Beethoven's Triple Concerto is a surprising and experimental score whose three movements (with a Finale 'alla Polacca') subtly organise the balanced dialogue between three solo voices and the orchestra.
Media
Claude Debussy : Prélude à l'après-midi d'un faune - Orchestre Philharmonique de Radio France, Myung-Whun Chung (direction)
Ludwig van Beethoven : Triple Concerto - Chamber Orchestra of Europe, Bernard Haitink (direction), Renaud Capuçon (violon), Gautier Capuçon (violoncelle), Frank Braley (piano)
Johannes Brahms : Symphonie n° 3 - Chamber Orchestra of Europe, Paavo Berglund (direction)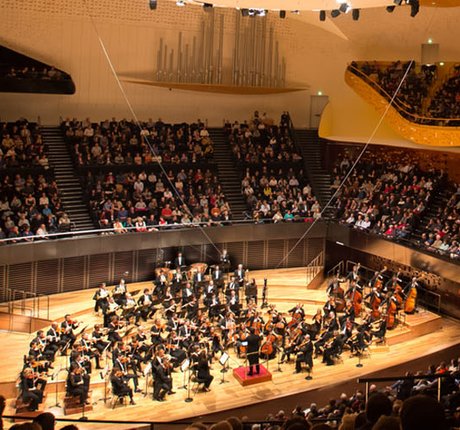 Getting here
Porte de Pantin station
M
5
Paris Underground (Métro) Line 5
3B
Tram 3B
Address
221 avenue Jean-Jaurès, 75019 Paris
To leave after this concert