Symphonic Concert
•
Grande salle Pierre Boulez - Philharmonie
•
Duration: about
1h52
with 1 intermission
Felix Mendelssohn
Concerto pour violon n°2
Piotr Ilitch Tchaïkovski
Hymne des chérubins
Chœur de l'Orchestre de Paris
Chœur de jeunes de l'Orchestre de Paris
Dima Slobodeniouk
, conducting
Ingrid Roose
, choirmaster
Rémi Aguirre Zubiri
, chef de choeur associé
Edwin Baudo
, chef de choeur associé
Béatrice Warcollier
, cheffe de choeur associée
A concert featuring two monuments in the repertoire, elegantly escorted by rarely performed gems of choral music: Nänie and the radiant Hymn of the Cherubim.  
Composed by Brahms in 1880 after the death of his painter friend Anselm Feuerbach, Nänie is a funeral song for chorus and orchestra, a very demanding piece to perform, in which the composer expresses both the pain of grief and hope for consolation.
With its highly lyrical initial theme and sober virtuosity, Mendelssohn's Violin Concerto is a pillar in the repertoire, a work at once voluble, intimate, and full of spontaneity.
After the moving Hymn of the Cherubim for a cappella choir, part of the Liturgy of St. John Chrysostom by Tchaikovsky, for whom Orthodox ritual held great significance, the programme concludes with his imposing Symphony No.4. With its cyclical conception, and by the composer's own admission, this opus symbolises the illusory but obstinate quest for happiness in an existence ruled by fate. 

Media
Johannes Brahms : Nänie - Orchestre Révolutionnaire et Romantique, The Monteverdi Choir, Sir John Eliot Gardiner (direction)
Felix Mendelssohn : Concerto pour violon n° 2 - Thomas Zehetmair (violon), Chamber Orchestra of Europe, Nikolaus Harnoncourt (direction)
Piotr Ilitch Tchaïkovski : Symphonie n° 4 - Budapest Festival Orchestra, Iván Fischer (direction)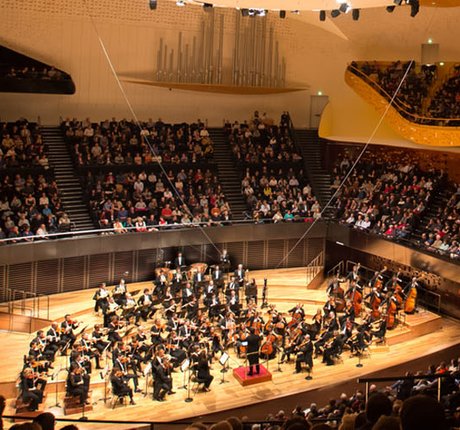 Getting here
Porte de Pantin station
M
5
Paris Underground (Métro) Line 5
3B
Tram 3B
Address
221 avenue Jean-Jaurès, 75019 Paris
To leave after this concert