Symphonic Concert
•
Grande salle Pierre Boulez - Philharmonie
•
Duration: about
1h55
with 1 intermission
Kaija Saariaho
Ciel d'hiver (extrait d'Orion)
Jean Sibelius
Concerto pour violon
Hector Berlioz
Symphonie fantastique
Klaus Mäkelä
, conducting
A programme featuring all the charms and powers of the orchestra, with Saariaho's surreal acoustic textures, the irresistible lyricism of Sibelius' Concerto under the bow of Janine Jansen, and the immensity and immoderation of the Symphonie fantastique.
Atmospheric and intensely contemplative: so has been described 'Winter Sky' in the second movement of Kaija Saariajo's Orion (2002), with its introductory piccolo solo that draws us into a magnetic acoustic poem. With its neo-Romantic splendour, elegiac tone, and striking virtuosity, Sibelius' Violin Concerto remains one of the highlights of the repertoire.
The truly unique and colossal Symphonie fantastique and its 'idée fixe' project onto the stage an epic musical tale, marked by the influence of Goethe and Shakespeare. The twinkling waltz at the 'Ball', the terrifying visions of the 'March to the Scaffold', the sarcastic whirling of the 'Dream of a Witches' Sabbath', complete with the chanting of the Dies Irae. More than just a score, the Fantastique is an unforgettable experience! 
Media
Kaija Saariaho : Ciel d'hiver - Orchestre Français des Jeunes, Michael Schonwandt (direction)
Jean Sibelius : Concerto pour violon - Orchestre National d'Île-de-France, Case Scaglione (direction)
Hector Berlioz : Symphonie fantastique - Orchestre Philharmonique de Radio France, Myung-Whun Chung (direction)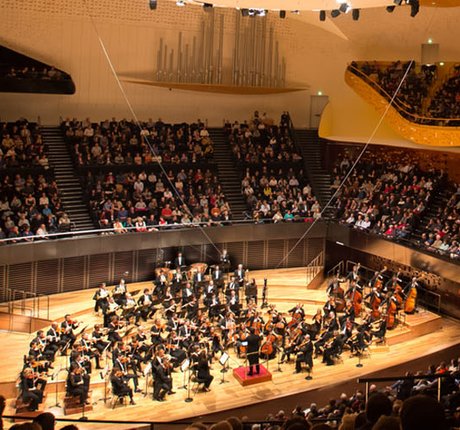 Getting here
Porte de Pantin station
M
5
Paris Underground (Métro) Line 5
3B
Tram 3B
Address
221 avenue Jean-Jaurès, 75019 Paris
To leave after this concert