Symphonic Concert
•
Grande salle Pierre Boulez - Philharmonie
•
Duration: about
1h54
with 1 intermission
Serge Rachmaninoff
Rhapsodie sur un thème de Paganini
Dmitri Chostakovitch
Symphonie n° 7 « Leningrad »
Klaus Mäkelä
, conducting
An exhilarating and poignant Russian evening with Rachmaninoff's Rhapsody in the virtuoso hands of Beatrice Rana, and the monument of strength, tragedy, and ambiguity of Shostakovich's great 'war symphony'.
Rachmaninoff composed his Rhapsody on the theme of Caprice No.24, for violin, a theme on which Brahms also wrote an opus. The masterful writing, alternating lyricism and velocity, does not diminish the sense of tragedy, with the quotation of the Dies Irae, and a modernity that sometimes recalls Prokofiev's.
In counterpoint, the 'Leningrad' Symphony, evoking the siege of the city by the German troops, is a musical experience of incomparable intensity. It offers joy and insouciance submerged by brutal force, playful remissions in the flow of aggressive interjections, discordant harmonies and fierce ostinatos, and the conclusion is a victorious apotheosis, without the sense of erratic violence ever dissipating. With an expressiveness as compelling as it is hermetic, Shostakovich's ambiguity, shines through in this fabulous orchestral score.    
Media
Serge Rachmaninoff : Rhapsodie sur un thème de Paganini - Nikolaï Lugansky (piano), Russian National Orchestra, Mikhaïl Pletnev (direction)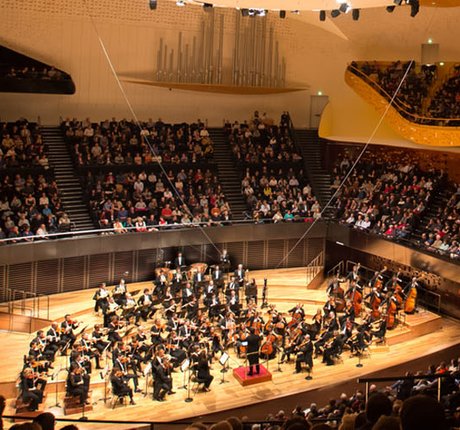 Getting here
Porte de Pantin station
M
5
Paris Underground (Métro) Line 5
3B
Tram 3B
Address
221 avenue Jean-Jaurès, 75019 Paris
To leave after this concert