Symphonic Concert
•
Grande salle Pierre Boulez - Philharmonie
•
Duration: about
1h45
with 1 intermission
Kaija Saariaho
Asteroid 4179 : Toutatis
Richard Strauss
Ainsi parlait Zarathoustra
Jimmy López Bellido
Aino
Création *
Pascal Dusapin
A Linea
Création **
Alexandre Scriabine
Poème de l'extase
Klaus Mäkelä
, conducting
The Philharmonie de Paris dedicates these concerts to the memory of the German pianist and conductor Lars Vogt, who passed away on Monday 5 September.
---

Exemplifying Pythagoras' theorem of a 'music of the spheres', this concert draws us into a cosmic journey, between philosophy, celestial poetry, and spiritual imagining—and unveils a new orb with the premiere of a work by Jimmy López.
Loosely inspired by Nietzsche's famous work, Thus Spoke Zarathustra magnifies the orchestra with its eight superbly orchestrated sections, grandiose solemnity, and monumental span. The metaphysical quality of its music is echoed in Scriabin's messianic Poem of Ecstasy, imbued with the influence of Wagner and Debussy—a synaesthetic and religious vision culminating in the fantastic conclusion. Pascal Dusapin's sometimes violent and highly visual artistic universe questions the notion of sound space in A Linea, premiered here alongside a brand-new piece by Peruvian composer Jimmy López, one of the most exciting talents of the young generation. Finally, one need only close one's eyes to abandon oneself to the celestial poetry of Kaija Saariaho's Asteroid 4179, composed in homage to Gustav Holst's The Planets. 
* Aino by Jimmy López Bellido is commissioned by the Orchestre de Paris / Philharmonie de Paris, Royal Concertgebouworkest, and Chicago Symphony Orchestra (through the generous support of the Helen Zell Commissioning Programme).
** A Linea by Pascal Dusapin is commissioned by the Orchestre de Paris / Philharmonie de Paris.
Philharmonie Live
September 8's concert broadcasted live and available on demand until March 8, 2023 on Philharmonie Live.
Watch the concert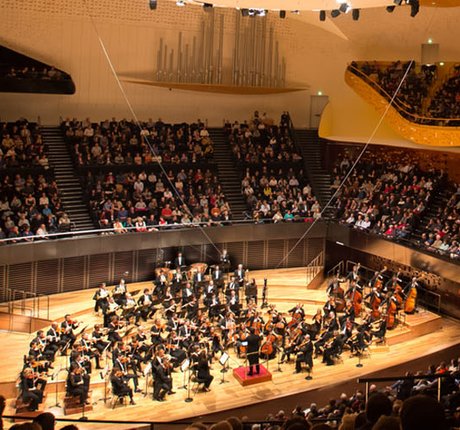 Getting here
Porte de Pantin station
M
5
Paris Underground (Métro) Line 5
3B
Tram 3B
Address
221 avenue Jean-Jaurès, 75019 Paris
To leave after this concert