Symphonic Concert
•
Grande salle Pierre Boulez - Philharmonie
•
Duration: about
1h36
with 1 intermission
Kaija Saariaho
Vista
(création française)
Maurice Ravel
Concerto en sol
Igor Stravinski
Le Sacre du printemps
Klaus Mäkelä
, conducting
The totemic Rite of Spring magnifies the telluric force of the orchestra, while the Concerto in G radiates subtle modernity. Accompanying these two pillars of the repertoire is an exciting new work by Kaija Saariaho.  
Kaija Saariaho's Vista, composed in 2019, evokes the vast American landscapes seen from behind the wheel, in an impressive acoustic whirlwind alternating between sometimes bitter lyricism and a voluble toccata spirit. The overture of two oboes recalls the illustrious bassoon solo at the start of the landmark of musical modernism, The Rite of Spring—the ultimate orchestral experience, called radical and 'barbaric', that sent seats flying in protest when it premiered in Paris on May 29, 1913.
Lastly, another masterpiece, Ravel's testamentary Concerto in G, succeeds in blending classical imagination with accents of sometimes Gershwinian jazz. Its stunning energy, exhilarating in the 'perpetual motion' of the Finale, gives way to pure emotion in the sublime Adagio, channelling the spirit of Mozart in a sublime, hypnotic, and heart-rending melody.
Media
Maurice Ravel : Concerto en sol - Orchestre de la Philharmonie Tchèque, Vladimir Ashkenazy (direction), Hélène Grimaud (piano)
Igor Stravinski : Le Sacre du printemps - Orchestre du Conservatoire de Paris, Susanna Mälkki (direction)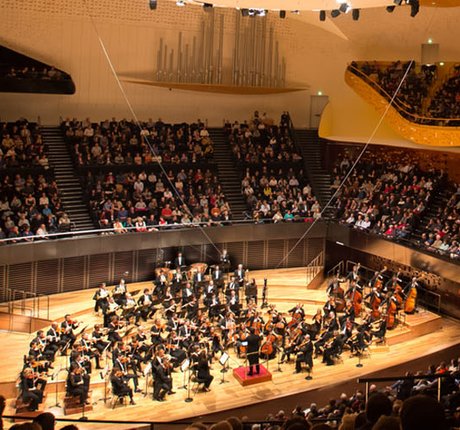 Getting here
Porte de Pantin station
M
5
Paris Underground (Métro) Line 5
3B
Tram 3B
Address
221 avenue Jean-Jaurès, 75019 Paris
To leave after this concert