Symphonic Concert
•
Grande salle Pierre Boulez - Philharmonie
•
Duration: about
2h15
with 1 intermission
Sergueï Prokofiev
Ouverture sur des thèmes juifs
Dmitri Chostakovitch
Concerto pour violoncelle n° 1
Ludwig van Beethoven
Symphonie n° 6 "Pastorale"
Nathalie Stutzmann
, conducting
Sheku Kanneh-Mason
, cello
One of Beethoven's most popular symphonies, introduced by two major figures of the Russian 20th century—forming a programme in vivid colour for orchestra and soloist alike. 
Imbued with folk jubilation but also unspeakably melancholy, Prokofiev's Overture on Hebrew Themes (1934), originally composed for quartet at the request of Jewish musicians living as refugees in America, is one of the earliest and most beautiful examples of artistic stylization in klezmer music.
This popular music vein is echoed in Shostakovich's more sombre Concerto (1959), the four movements of which are built around a musical cryptogram of the composer's name. The cello's full expressive range is showcased in this passionate work that is not without sarcasm, including distorted echoes of Suleiko, a favourite song of Stalin's.
The programme concludes with Beethoven's 'Pastoral' Symphony (1908), a titan among 'popular' works in both senses of the word. It ventures into the realm of descriptive music, with birdsong, the murmur of a stream and the rustling of leaves rendered by trills, and thunderclaps by the timpani, bringing to life a vibrant soundscape.

Media
Serge Prokofiev : Ouverture sur des thèmes juifs - Simon Trpčeski (piano), Royal Liverpool Orchestra, Vasily Petrenko (direction)
Dmitri Chostakovitch : Concerto pour violoncelle n° 1 - Tatjana Vassiljeva (violoncelle), Orchestre de Paris, Paavo Järvi (direction)
Ludwig van Beethoven : Symphonie n° 6 - Chamber Orchestra of Europe, Yannick Nézet-Séguin (direction)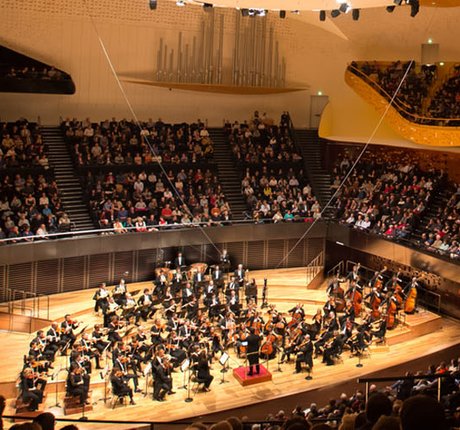 Getting here
Porte de Pantin station
M
5
Paris Underground (Métro) Line 5
3B
Tram 3B
Address
221 avenue Jean-Jaurès, 75019 Paris
To leave after this concert