Symphonic Concert
•
Salle des concerts - Cité de la musique
Helen Grime
Oeuvre nouvelle (Création)
Joseph Haydn
Symphonie n° 82 "L'Ours"
Symphonie n° 100 "Militaire"
Chœur de l'Orchestre de Paris
Christoph Koncz
, conducting
Richard Wilberforce
, choirmaster
Profuse, incredibly inventive and always surprising, Haydn seems to have both invented and surpassed the 'classical style', as reflected in this programme of contrasts, to which a new work by Helen Grime adds a moving tribute. 
Composed in 1786, Symphony No. 82 is one of the six 'Paris' Symphonies. Generally martial in character, featuring trumpets and timpani, it is characterised by dramatic pre-Beethovenian flourishes and by the 'rustic' theme of its Finale, said to imitate the movements of a bear trying to dance. Symphony No. 100 is also 'military' in tone, with its large alla turca percussion section, and evokes the charge, the clash of arms and the terrifying side of battle, while also offering plenty of Haydn's beloved surprise effects.
Turning to a more spiritual register, we hear the superb motet Insanae et vanae curae, evoking the mad and vain anguish that assails the heart of the Christian, wherein the composer updates one of the choruses of his Il ritorno di Tobia oratorio. Finally, in tribute to the man Mozart called 'Papa Haydn', we discover a new work by Scottish composer and oboist Helen Grime, commissioned by the Orchestre de Paris and the Hamburg Philharmonic Orchestra.
River d'Helen Grime is commissioned by Philharmonie de Paris - Orchestre de Paris and Philharmonisches Staatsorchester Hamburg.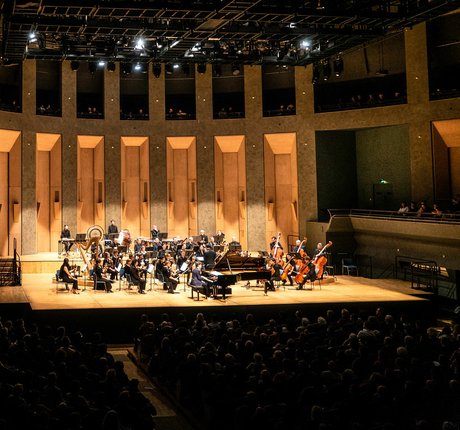 Getting here
Porte de Pantin station
M
5
Paris Underground (Métro) Line 5
3B
Tram 3B
Address
221 avenue Jean-Jaurès, 75019 Paris