Vocal Concert
•
Grande salle Pierre Boulez - Philharmonie
•
Program
Gioacchino Rossini
Ouverture de Semiramide
Bel raggio lusingher
(extrait de Sémiramide)
Charles Gounod
Sous les pieds d'une femme
(extrait de La Reine de Saba)
Léo Delibes
Gaillarde
(extrait de Le Roi s'amuse)
Gaetano Donizetti
Come innocente giovane
(extrait d'Anna Bolena)
Piotr Ilitch Tchaïkovski
Polonaise
(extrait d'Eugène Onéguine)
Air de Gremin
(extrait d'Eugène Onéguine)
Giuseppe Verdi
Valse de la musique de ballet
(extrait de Macbeth)
Gaetano Donizetti
Oh mio buon Talbot !
(extrait de Maria Stuarda)
Vincenzo Bellini
Ouverture
(extrait de Norma)
Casta Diva
(extrait de Norma)
Distribution
Orchestre national d'Île-de-France
Diana Damrau and Nicolas Testé offer a programme on the theme of kings and queens, drawn from the Italian operatic repertoire. They appear alongside conductor Ivan Repusic, with whom we have already heard them perform.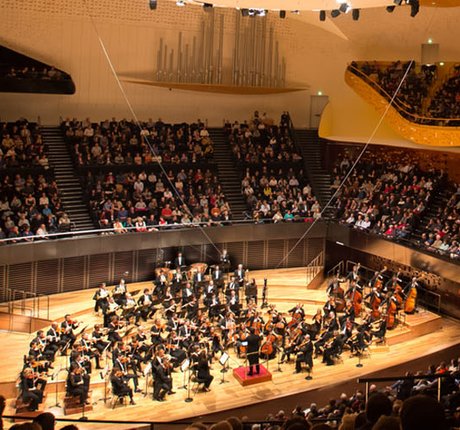 Getting here
Porte de Pantin station
M
5
Paris Underground (Métro) Line 5
3B
Tram 3B
Address
221 avenue Jean-Jaurès, 75019 Paris
To leave after this concert