Salle des concerts - Cité de la musique
•
In appointing, for the first time, an artist to programme its Soirée Hexagone—a "festival within the festival" designed to showcase the French music scene—Days Off welcomes a lineup that is sure to be eclectic, surprising, captivating, and passionate. Flavien Berger has made a rich selection reflecting his vision of music as a living thing, open to winds from all directions, and never attached to fixed principles. Moodoïd, spearheaded by composer Pablo Padovani, has fleshed out the baroque pop of its early days with funky electro.
The event will feature other artists as well, all equally familiar with winding roads. Flavien Berger, also the evening's headliner, has admirably risen to the task, offering a Hexagone painted in equal strokes of black and white.

NUMBEREAD SEATS / FREE STANDING

Part of Flavien Berger's carte blanche
The most "pop" artist on the independent French label Pan European Recording (Koudlam, Poni Hoax, Maud Geffray, etc.), Flavien Berger brilliantly navigates the juncture between electro, chanson, and psychedelia. But for him, what counts is being able to find constant inspiration in travel, new encounters, and his insatiable curiosity. With his natural inclination to sharing music—his own, and particularly that of others—Flavien Berger was the perfect choice for the first artist to be invited to programme the festival's Soirée Hexagone, the third of its kind at Days Off, designed to offer a snapshot of France's young music scene. Performing solo with his microphone and machines, he will also be the evening's headliner.
His cinematic musical productions, inevitably conjuring vivid images, suggest interesting taste in film; as part of his "carte blanche", his selection of movies on the theme of time travel will be projected at MK2 Quai de Seine.
For his finale, Favien Berger has concocted a lineup of concerts and DJ sets full of surprises. Guided by his festive and vagabond spirit, his artistic choices will surely meld perfectly with the idyllic rooftop setting at the Philharmonie de Paris.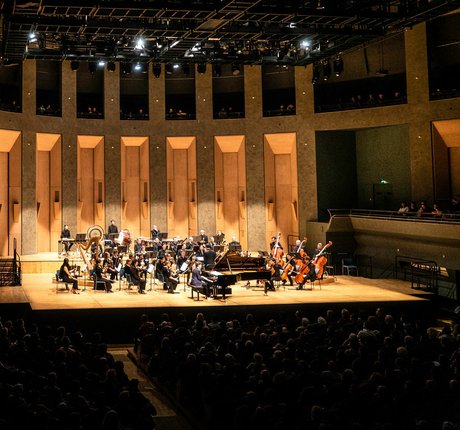 Getting here
Porte de Pantin station
M
5
Paris Underground (Métro) Line 5
3B
Tram 3B
Address
221 avenue Jean-Jaurès, 75019 Paris