Concert
•
Grande salle Pierre Boulez - Philharmonie
•
Duration: about
1h50
with 1 intermission
Johann Adolf Hasse
Fugue et grave
Johannes Brahms
Concerto pour violon
Wolfgang Amadeus Mozart
Adagio et Fugue
Klaus Mäkelä
, conducting
The homage to the fugue as the quintessence of musical thought dominates this program, in which the Brahms' Concerto for violin brings its touch of flamboyant virtuosity.
An admirable and little-known piece, Hasse's Fugue and Grave in G minor invites us to a meditation on death, which the dynamics of the counterpoint nevertheless prevent from descending into despair. Originally intended for two pianos, Mozart's Adagio and Fugue follows suit with its atmosphere of solemn tragedy and the internal tension that animates its formal complexity. That Mozart deeply internalized the art of Bach and Handel is best demonstrated by his last final symphony "Jupiter" where his prodigious ease of writing culminates in the fusion of the drama of sonata form with the rigor of counterpoint.
At ease also with the fugal style, Brahms and his Concerto for Violin is a score in the Beethovenian tradition: the ample and dense Allegro and the dreamy Adagio, with its famous oboe theme, are followed by a dizzying Finale, which sets the soloist and orchestra ablaze in an irresistible gypsy party.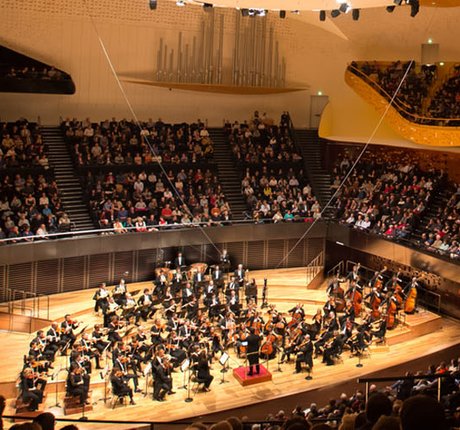 Getting here
Porte de Pantin station
M
5
Paris Underground (Métro) Line 5
3B
Tram 3B
Address
221 avenue Jean-Jaurès, 75019 Paris
To leave after this concert