Grande salle Pierre Boulez - Philharmonie
Program
Igor Stravinski
Ebony Concerto
Serge Rachmaninoff
Concerto pour piano n° 4
William Walton
Belshazzar's Feast
Distribution
Choeur de l'Orchestre de Paris
Sir Willard White
, baryton
Marc Korovitch
, choirmaster
At the heart of this program is Belshazzar's Feast by Walton, which recounts the biblical episode of the Hebrews' exile in Babylon, with Stravinsky's Ebony Concerto and Rachmaninoff's Fourth Concerto, two works inspired by jazz.
The Book of Daniel recounts the sacrilege committed by the Babylonian king Belshazzar in using sacred dishes to honour idols. The famous Psalm 137, the lament of the exiles, completes the texts chosen by William Walton for his richly orchestrated Cantata, whose rhythmic energy bears witness to his interest in jazz and folk music. The same interest can be found in Stravinsky who, as soon as he arrived in the United States, became fascinated by this music, as can be seen in his Ebony Concerto, a magnificent synthesis between jazz and symphonic music.
The concert ends with Yuja Wang taking on the least played of Rachmaninoff's concertos. Poorly received in 1927 because of its surprising modernity, the work is nonetheless full of treasures: elegiac melody and post-Chopinian ornamentation in the Allegro; a subtle ironic interplay with the English song Three Blind Mice in the Largo; and a fascinating alternation between rhythmic frenzy and meditative abstraction in the Finale.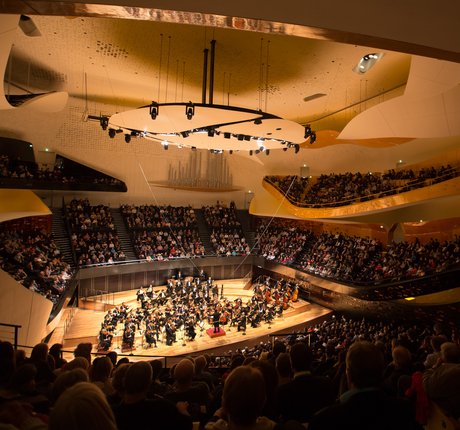 Getting here
Porte de Pantin station
M
5
Paris Underground (Métro) Line 5
3B
Tram 3B
Address
221 avenue Jean-Jaurès, 75019 Paris