Concert
•
Grande salle Pierre Boulez - Philharmonie
•
Duration: about
1h50
with 1 intermission
Edvard Grieg
Peer Gynt
Ouverture
Peer Gynt, Suite n°1, op. 46
Piotr Ilitch Tchaïkovski
Concerto pour violon
Carl Nielsen
Symphonie n° 2 "Les Quatre Tempéraments"
The seductive Scandinavian tableau Peer Gynt, a hymn to Norway, is showcased here with the thrilling Symphony No.2 by Nielsen, who was also a great violinist. Speaking of violin, we can count on the masterful bow of Maria Dueñas to ignite Tchaikovsky's formidable Concerto!
In Peer Gynt, composed at the request of Ibsen himself, Grieg deployed his art to the fullest, with echoes of Mussorgsky, Chopin, and Wagner. Offering twirling dances, oriental melodies, the noble simplicity of folk songs, idyllic passages of orchestral calm, dramatic interludes, and galvanizing marches, the 'Mountain King' and Solveig's Song are engraved in our collective memory. I
nspired by a series of popular drawings, Nielsen's Symphony No.2 gives orchestral voice to the different human 'temperaments': quick-tempered with impetuous rhythms, apathetic with a slow waltz, melancholy, and fiery.
Finally, Tchaikovsky's dauntingly virtuoso Violin Concerto imposes its pensive cantilenas and feverish lyricism, demanding flawless technique on the part of the soloist.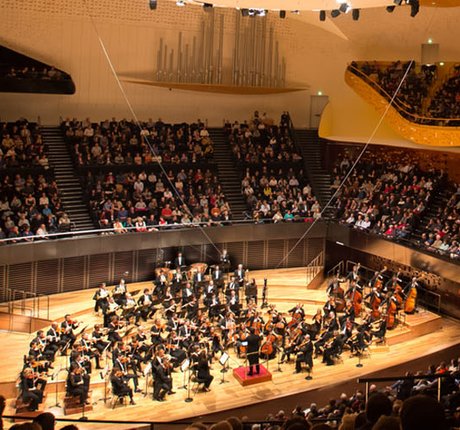 Getting here
Porte de Pantin station
M
5
Paris Underground (Métro) Line 5
3B
Tram 3B
Address
221 avenue Jean-Jaurès, 75019 Paris
To leave after this concert