Igor Stravinski
Histoire du soldat
Stanislas Kuchinski
, doublebass
Julien Desgranges
, clarinet
Célestin Guérin
, trumpet
Cédric Vinatier
, trombone
A label-defying work created for the simple stage of itinerant theatre, The Soldier's Tale recounts the 'disasters of war'. The score full of surprises is one of Stravinsky's most original. 
It was in Switzerland during World War I, and as the Russian Revolution was taking place, that Stravinsky and Ramuz went about creating a 'modest' work that would be less costly than an opera, in the spirit of popular itinerant theatre. Drawing on diverse sources, including Faust, Ramuz came up with the plot about a soldier who has deserted and ends up selling his soul in a pact with the Devil. The tale examines the eternal question of the link between prosperity and happiness and, according to Theodor Adorno, is a fable on the genesis of fascism and the horrors of war.
For this original piece, falling within the genre of 'musical theatre' and sometimes called a 'mimodrama' or 'opera without singers' (Cocteau), Stravinsky composed a score bursting with new ideas. Strings, horns, woodwinds and percussions interweave in airs, marches, pastoral moments and dances, in an often playful kaleidoscope rich in intensity and emotion.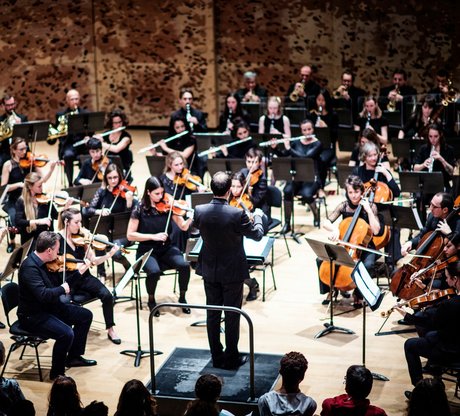 Getting here
Porte de Pantin station
M
5
Paris Underground (Métro) Line 5
3B
Tram 3B
Address
221 avenue Jean-Jaurès, 75019 Paris