Show for kids
•
for ages 9+, Families
•
Salle des concerts - Cité de la musique
Musique de Lewis Murphy
Livret de Laura Attridge
Choeur d'enfants de l'Orchestre de Paris
Choeur de jeunes de l'Orchestre de Paris
Musiciens de l'Orchestre de Paris
Ingrid Roose
, conducting
Benoit Benichou
, staging
Rémi Aguirre Zubiri
, choirmaster
Edwin Baudo
, choirmaster
Désirée Pannetier
, choirmaster
Béatrice Warcollier
, choirmaster
An opera on a cruelly topical subject, the fate of young refugees in 1940 and today, offering a timeless scenic and musical meditation on displacement and violence, but also hope and humanity. 
'The air is filled with sound and flame...' The role of Glyndebourne in welcoming refugees from the London Blitz during World War II was the inspiration for this opera featuring a cast of children and teens. Together, librettist Laura Attridge and composer Lewis Murphy drew a parallel between the situation in 1940 and that of today's migrants crossing the Mediterranean (and sometimes losing their lives) and pushing on to Calais since 2016: two historical and human tragedies, felt especially deeply by youth brutally thrust into the unknown and severed from their linguistic and cultural reference points.
While far from a desperate story, thanks to the humanism and solidarity it celebrates, Belongings gives voice to the suffering of the innocent. As quoted in the score from a Bach oratorio, Ein Lämmlein geht und trägt die Schuld der Welt: the lamb that appears, bearing the sins of the world.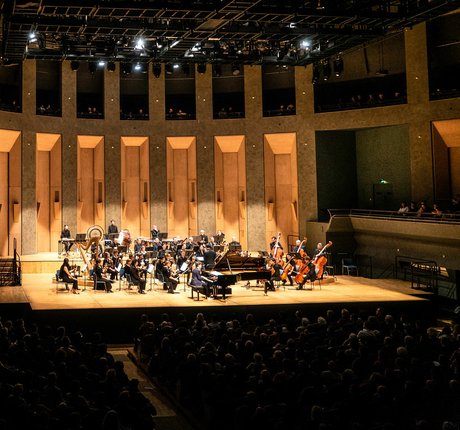 Getting here
Porte de Pantin station
M
5
Paris Underground (Métro) Line 5
3B
Tram 3B
Address
221 avenue Jean-Jaurès, 75019 Paris