Concert with video
•
Grande salle Pierre Boulez - Philharmonie
•
Duration: about
3h00
with 2 intermissions
Igor Stravinski
L'Oiseau de feu (ballet)
Petrouchka (version de 1947)
Klaus Mäkelä
, conducting
Evangelia Kranioti
, film
Produced in collaboration with the Festival d'Aix-en-Provence, this special concert of three of Stravinsky's mythical ballets gives 'carte blanche' to three inventive film artists, for an evening of not only reverie but also new readings and perspectives. 
The Firebird, premiered in 1910, recounts the adventures of Ivan, son of the Tsar, who captures a fabulous bird in the enchanted garden of the sorcerer Koschei, then frees the bird in exchange for one of its feathers and its loyalty. It is a score poised between its Rimsky-Korsakov heritage and its modernist thrust, and which became an emblem of Diaghilev's Ballets Russes. Filmmaker Rebecca Zlotowski (b. 1980) interprets it as a metaphor for cinema, with the screen representing Koschei's garden; Ivan in the role of producer; and the silver bird as an allegory for the grandeur and servitudes of the 'seventh art'.
The year was 1911 when Paris discovered the antics of Petrushka, the trickster puppet at the heart of Stravinsky's new ballet. It is a virtuoso work of carnivals and colourful dances, which video director Bertrand Mandico (b. 1971), playing on the word 'mannequin', here transposes into the world of fashion, delivering a reflection on the human and inhuman, on feeling and artifice.
 
A touchstone of musical modernity and a famously 'scandalous' work, The Rite of Spring (1913) is a concentration of orchestral energy in the form of a formidable 'pagan ritual'. Filmmaker Evangelia Kranioti (b. 1979) offers her reading of it as a parable of man's union with (sacred, feminine) nature and, from what could be called an eco-feminist perspective, as a call for protection against the predation, domination, oppression of women and minorities.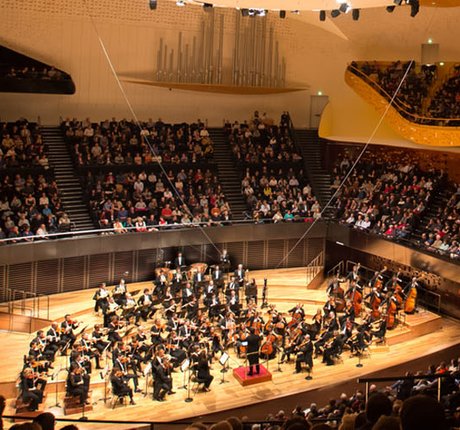 Getting here
Porte de Pantin station
M
5
Paris Underground (Métro) Line 5
3B
Tram 3B
Address
221 avenue Jean-Jaurès, 75019 Paris
To leave after this concert