Family Concert
•
for ages 6+
•
Grande salle Pierre Boulez - Philharmonie
•
Albert Roussel
Le Festin de l'araignée - ballet
Extraits
Camille Saint-Saëns
Carnaval des animaux
Ustina Dubitsky
, Lauréate La Maestra , musical conducting
Florence Andrieu
, actoress
Victoria Duhamel
, , dramaturge
John Blanch Productions
, Images en direct
On stage and on a big screen, this show invites us to follow an excentric professor into a musical observation of nature—exploring the fascinating microcosm of the world of insects with Roussel, and wandering the alleys of a sometimes strikingly human zoo with Saint-Saëns!
This theatrical concert—of two works as enchanting as they are famous—is preceded by preparatory workshops for children and their family. In this suite from his ballet-pantomime, Albert Roussel gives free rein to his inspired and pointillist orchestration, evoking the fate of insects caught in a spider web.
Ants and butterflies inspire astonishing orchestral wonders, with accentuated irony in the most famous zoological fantasy, Saint-Saëns' Carnival of the Animals. The fourteen pieces in this enchanting musical menagerie range wildly, from the movingly plaintive song of the 'swan' to the vehement braying of the donkey, the clumsy sway of the elephant, the almost Ravelian shimmering of the 'Aquarium' and, in especially playful satire, the surging scales of the 'pianists'!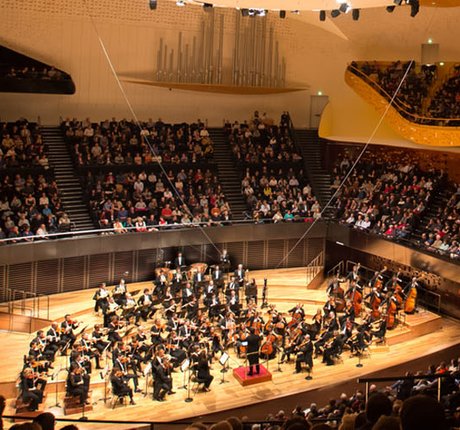 Getting here
Porte de Pantin station
M
5
Paris Underground (Métro) Line 5
3B
Tram 3B
Address
221 avenue Jean-Jaurès, 75019 Paris
To leave after this concert
Parking vélo surveillé (payant sur réservation)