Symphonic Concert
•
Grande salle Pierre Boulez - Philharmonie
Sergueï Prokofiev
Concerto pour piano n° 2
Dmitri Chostakovitch
Symphonie n°11 "L'Année 1905"
Klaus Mäkelä
, conducting
The meeting of two monuments in the Russian repertoire: Prokofiev's Concerto No. 2, steeped in modernist fury, and one of Shostakovich's most gloriously narrative Symphonies, a page in history and fervent indictment of all tyrannies.
The work of a 'young barbarian' deemed godless and lawless, Prokofiev's Concerto No. 2 triggered a scandal of Rite of Spring proportions when it premiered in 1913. It must be said that its futuristic radicalism—making it, for the soloist, one of the most formidable feats in the repertoire—bursts forth in the fantastic cadence of the first movement, the motoristic flow of the Scherzo, and the general flaring-up of sound, at times grotesque and explosive.
As its nickname suggests, Shostakovich's Symphony No. 11 was dedicated to the aborted (and harshly repressed) Revolution of 1905, and quoted popular melodies and revolutionary songs. Carrying on the legacy of Tchaikovsky, Mussorgsky and Rimsky-Korsakov, Shostakovich delivered, shortly after Stalin's death, this seemingly 'positive' and 'programme-worthy' score, but which did not deceive the sharp eye of poet Ana Akhmatova: its optimism, she said, only existed against the background of drama and pallid skies, as an homage to the ideals betrayed by the Soviet state and to the victims of all repression.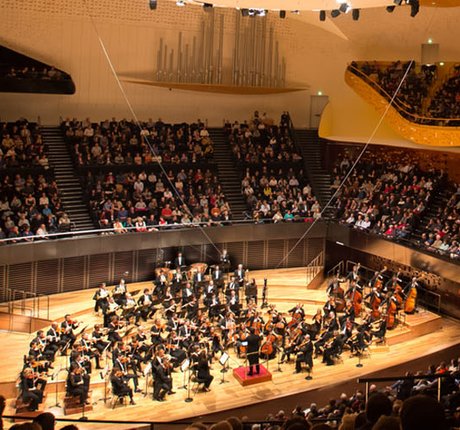 Getting here
Porte de Pantin station
M
5
Paris Underground (Métro) Line 5
3B
Tram 3B
Address
221 avenue Jean-Jaurès, 75019 Paris
To leave after this concert