Symphonic Concert
•
Grande salle Pierre Boulez - Philharmonie
Max Bruch
Concerto pour clarinette et alto
Johannes Brahms
Quatuor pour piano et cordes n° 1 (version pour orchestre d'Arnold Schönberg)
Christoph Eschenbach
, conducting
Pascal Moraguès
, clarinet
Max Bruch's superb 'Double Concerto' embodies faithfulness to romanticism as the very essence of music, while Brahms' Quartet, turned by Schönberg into a 'Fifth Symphony', radiates mastery and subtle modernity.
As for Brahms, it was towards the end of his career that Max Bruch fell in love with the sound of the clarinet, of which his son was a virtuoso. Including quotes from some of his earlier works and from folk themes, his Concerto for Clarinet and Viola (1911) orchestrates a rich dialogue between the two soloists, in the spirit of deep, effusive and sometimes dramatic romanticism, to which the composer remained deeply attached.
In counterpoint, with its four stunning movements, we hear the orchestral version of Brahms' Quartet for Piano and Strings (premiered in 1861 with Clara Schumann at the piano). In 1938, shortly after giving his famous lecture on 'Brahms the Progressive', Schönberg completed his transcription of a score that he wanted to bring out of the shadows and saw as a absolute model of 'development by variation'. Otto Klemperer said that this version rendered Brahms' intentions so beautifully, right up to the famous 'Gypsy' finale, that after such a perfect arrangement, he found it impossible to listen to the original quartet.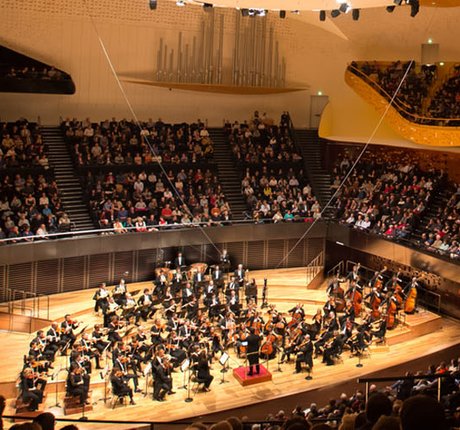 Getting here
Porte de Pantin station
M
5
Paris Underground (Métro) Line 5
3B
Tram 3B
Address
221 avenue Jean-Jaurès, 75019 Paris
To leave after this concert