Vocal Concert
•
Grande salle Pierre Boulez - Philharmonie
•
Duration: about
2h30
with 1 intermission
Georg Friedrich Haendel
Atalanta
HWV 35 : Sinfonia, Acte III, sc.7
Zadok the priest, Coronation Anthem HWB 258
Henry Purcell
Welcome to all the pleasures
Overture, first Chorus, Ritornello
Georg Friedrich Haendel
Alcina
extrait : "Tornami a vagheggiar"
Orlando
HWV 31 : Recitativo e Aria « Ah ! stigie larve, ah ! scelerati spettri ! » Act II, sc. 10
L'Allegro, il Penseroso ed il Moderato
Air « I'll to thee well trod stage anon » - Air and Chorus « O let the merry bells ring round »
Ariodante
Aria « Scherza infida » Acte II, sc.3 - Duetto « Bramo aver mille vite » Act III, sc.12
Henry Purcell
The Fairy Queen
Semi-opéra
extraits
The Fairy Queen
Semi-opéra
Chorus "Now the night"
Marc-Antoine Charpentier
Les Arts Florissants H. 487
scène 1
Honoré D'Ambruys
Le Doux silence de nos bois
Jean-Baptiste Lully
Atys (extraits)
Jean-Philippe Rameau
Les Fêtes d'Hébé
Air « Pour rendre à mon hymen tout l'Olympe propice / Tu chantais »
Hippolyte et Aricie
Air « Puisque Pluton est inflexible »
Les Indes Galantes (extraits)
Juilliard415, élèves du département Historical Performance de la Juilliard School de New York
William Christie
, conducting
Lea Desandre
, mezzo-soprano
Christophe Dumaux
, contre-ténor
Marcel Beekman
, haute-contre
Les Arts Florissants, still flourishing after 40 years, as if unmarked by the passing of time. This event brings together an exceptional cast to look back on the pioneering work of William Christie and his partners.
Philharmonie Live
Concert broadcasted live and available on demand until June 21, 2020 on Philharmonie Live.
Watch the concert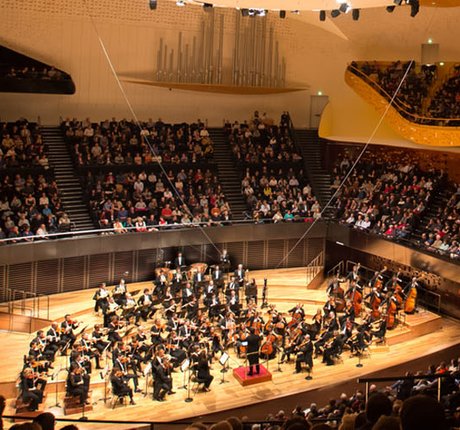 Getting here
Porte de Pantin station
M
5
Paris Underground (Métro) Line 5
3B
Tram 3B
Address
221 avenue Jean-Jaurès, 75019 Paris
To leave after this concert