Program
Alexander von Zemlinsky
Trio pour clarinette ou violon, violoncelle et piano op. 3
Gustav Mahler
Des Knaben Wunderhorn. 1. Der Schildwache Nachtlied
Lieder de jeunesse. Nicht wiedersehen !
Des Knaben Wunderhorn. 11. Revelge
Erich Wolfgang Korngold
Trio pour piano et cordes
Health pass is mandatory to access this event.
---
All the lyrical and troubled splendour of the Viennese spirit is concentrated in this programme of chamber music, in which a selection of Mahler's lieder, representing the emotive quintessence of his art, is accompanied by two magnificent Trios. 
Linked to Mahler by his unrequited love for Alma, Alexander von Zemlinsky—who in Vienna was also Korngold's professor—composed his Trio op.3 in 1896, a score in three movements in which the legacy of Brahms glistens in its rhapsodic flair and late-19th-century energy with expressionistic accents.   
Before his time in Hollywood, where he found success writing film scores, the young Erich Korngold was a darling of the Viennese music scene, which saw him as carrying on the legacy of Brahms. Composed when he was just thirteen, his Trio op.1 contains four movements, including an exquisite, meditative Larghetto. Clearly attesting to his gifts, often virtuoso and almost symphonic in its richness, the opus is striking in the coherence of its form and the iridescent play of its tonal colours.
In partnership with the Royaumont Foundation and Médiathèque musicale Mahler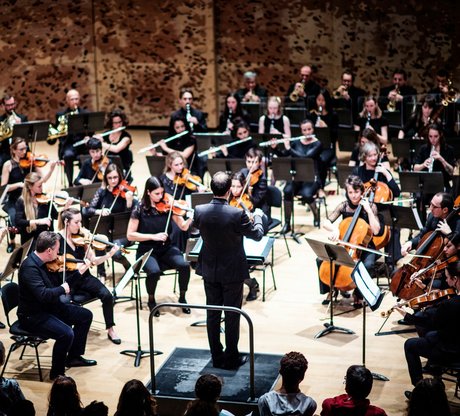 Getting here
Porte de Pantin station
M
5
Paris Underground (Métro) Line 5
3B
Tram 3B
Address
221 avenue Jean-Jaurès, 75019 Paris