Concert
•
Grande salle Pierre Boulez - Philharmonie
Camille Saint-Saëns
Concerto pour violon n° 3
Witold Lutoslawski
Concerto pour orchestre
Karina Canellakis
, conducting
Nous vous informons que pour des raisons personnelles la cheffe Karina Canellakis ne pourra pas assurer sa présence à Paris pour les concerts des 5 et 6 janvier 2022 de l'Orchestre de Paris.


Compte tenu des conditions sanitaires incertaines, nous avons fait le choix de ne pas la remplacer et d'annuler les deux concerts. Mais les musiciens de l'Orchestre de Paris auront le plaisir de la retrouver dès la saison 2022-2023 à la Philharmonie de Paris.


Packed with melodic splendour and galvanising tones, this symphonic program is an ode to orchestral impetus.


Although coming very late in Janáček's output, the 1926 Sinfonietta radiates popular and youthful verve. The military brio that dominates, around a vigorous group of thirteen brass instruments, acts as no obstacle to moments of mysterious poetry, where the English horn unfolds its elegiac song. Composed between 1950 and 1954, Lutosławski's Concerto for Orchestra, over the course of its three movements, builds on the combination of popular material, with Mazovian melodies, and 'nocturnal' climates with fantastic reflections.


Between these two pillars, Gil Shaham's sovereign sonority takes over Saint-Saëns' Concerto No. 3, dedicated to the legendary Pablo de Sarasate. The poetic lyricism of the Allegro, streaked with virtuoso lines, the chamber-like delicacy of the Andante with its Sicilian theme, the rhapsodic alacrity of the Finale, full of Spanish reminiscences, make it one of the summits of the violin repertoire.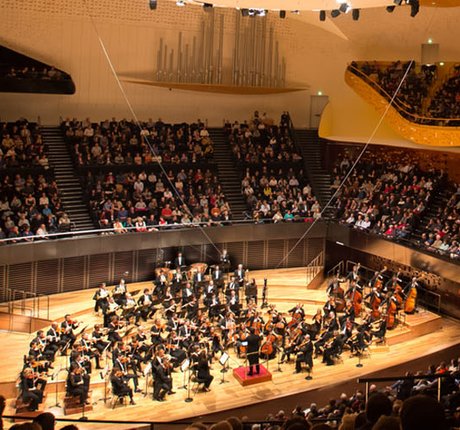 Getting here
Porte de Pantin station
M
5
Paris Underground (Métro) Line 5
3B
Tram 3B
Address
221 avenue Jean-Jaurès, 75019 Paris