Concert
•
Grande salle Pierre Boulez - Philharmonie
•
Duration: about
1h30
with 1 intermission
Igor Stravinski
Ebony Concerto
Serge Rachmaninoff
Concerto pour piano n° 1
Chœur de l'Orchestre de Paris
Chœur de jeunes de l'Orchestre de Paris
Klaus Mäkelä
, conducting
Philippe Berrod
, clarinet
Valentina Pluzhnikova
, mezzo-soprano
Marc Korovitch
, choirmaster
Ingrid Roose
, choirmaster
Rémi Aguirre Zubiri
, chef de choeur associé
Edwin Baudo
, chef de choeur associé
Béatrice Warcollier
, cheffe de choeur associée
We wish to inform you that for reasons pertaining to the public health situation, the concert program has had to be modified.
Serge Rachmaninoff's Piano Concerto No. 4 and William Walton's Belshazzar's Feast have been cancelled and replaced.


The Orchestre de Paris presents a colourful programme bringing together the jazzy accents of Stravinsky's Ebony Concerto, the romantic tempest of Rachmaninoff's Concerto No. 1, and the quiet nobility of Duruflé's Requiem.


As a new arrival in the United States, Stravinsky was drawn to everything representing American culture: Walt Disney movies, the Los Angeles jet set, and of course jazz. For the clarinettist Woody Herman, he thus composed an Ebony Concerto full of humour and spirited rhythm.


A similar freshness runs through Rachmaninoff's Concerto No. 1, performed here by pianist Yuja Wang. Written when the composer was just 18, as he was completing his conservatory studies, the score owes much to the great models of romanticism, Grieg and Schumann. It shares their fervour and their innovative approach to the soloist instrument, while revealing the emergence of Rachmaninoff's own fascinating musical language.


In counterpoint to these two works comes the exalted solemnity of Duruflé's Requiem. To tackle a mass for the dead after Verdi and Berlioz is a delicate exercise: rather than entering into orchestral one-upmanship, he sought a different way of evoking mortality. Duruflé produced a score that is profound and moving, without pomp or grandiloquence. The serene and intimate emotion of this piece, seldom performed in its symphonic version, is reminiscent of work by Fauré, or 17th-century French motets, or even Gregorian chanting.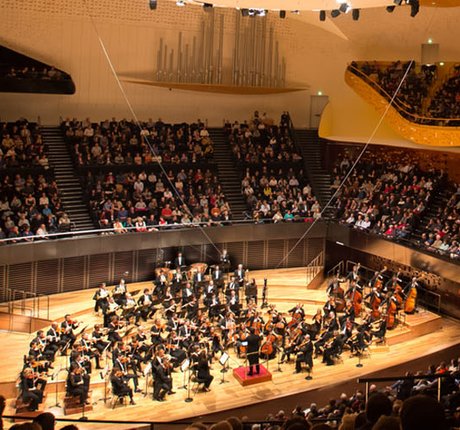 Getting here
Porte de Pantin station
M
5
Paris Underground (Métro) Line 5
3B
Tram 3B
Address
221 avenue Jean-Jaurès, 75019 Paris
To leave after this concert