Concert
•
Salle des concerts - Cité de la musique
•
Rufus Wainwright
, singer, piano, guitare
Olivier Simola
, montage vidéo
For his three-concert series, Rufus Wainwright presents songs from his pop albums organised into three broad categories. Act II is devoted to 'Songs of Love and Desire'. 
Starting with the first day of the covid 19 lock down in March 2020, Rufus Wainwright performed a song each day for his Instagram Followers calling this new series "Quarantunes". His fans around the world embraced these daily musical messages from his home in Laurel Canyon in Los Angeles. A few months into the pandemic he decided to embark on A Rufus-Retro-Wainwright-Spective, a series of 20 live stream concerts from his living room with his guitar player Brian Green and pianist Jacob Mann going through his entire studio album song catalogue in chronological order. Each 45 minute show had a micro-audience of one from Jamie Lee Curtis to Renee Zellweger, James Corden to Darren Criss, from Zach Galifianakis to Paul Rudd. 
For his 3 concerts Rufus-Retro-Wainwright-Spective at the Philharmonie in Paris Rufus has decided to take a different approach and focus on his pop studio albums and arranging the songs not chronologically but thematically into 3 main categories: "Songs of Youth and Addiction", "Songs of Love and Desire", "Songs of Contempt and Resistance". This is the first time that Rufus is presenting his retrospective live. While his albums are overflowing with lush orchestral arrangements, back up vocals and harmonies, that showcase his many influences from opera to Broadway to chanson, operetta and experimental pop, for his three Paris show, the presentation of the songs will be stripped down, focusing on the craft of the songs and Wainwright's unique and gorgeous voice that let's him immerse himself deep into the emotional world of a song and take the audience with him.
The singer collaborated with Italian visual and new media artist Gioele Amaro whose work blurs the boundaries between traditional media such as painting, photography, drawing and new media. Each song will be accompanied by a video created specifically for the song. For these videos Amaro is exploring new visual territory creating haunting surreal digital worlds. The images do not illustrate Wainwright's songs but rather add new layers of meaning, inviting us to listen anew and thus shedding new light on the music which is the ultimate goal of a retrospective: to look forward by looking back. 
Act 2: When obsessions lose their edge, the true nature of feelings gets revealed. Obsessions are what drives an artist forward, that makes them leave their homes to find new unchartered territory and ultimately new homes. But the places they are looking for are the safe places from obsessions, the harbors of love and other fulfilling desires. Wainwright's songs over and over again find these moments of happiness, in his love life, his family life as a father, as a son or as a friend. These are great moments of peace, of being aligned with yourself and your world that he expresses in his unique melodies and lyrics.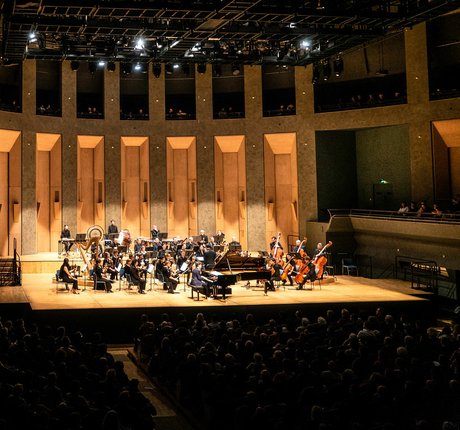 Getting here
Porte de Pantin station
M
5
Paris Underground (Métro) Line 5
3B
Tram 3B
Address
221 avenue Jean-Jaurès, 75019 Paris