Show
•
Salle des concerts - Cité de la musique
•
Duration: about
2h00
with 1 intermission
Program
Pierre Henry
Carnet de Venise
Promenade dans Venise en compagnie de Monteverdi - Première audition à Paris
Grand Remix de la Messe pour le temps présent
Distribution
Thierry Balasse
, sound projection
Maurice Béjart
, choreographer
Hervé Robbe
, choreographer
José Meireles, Alice Ladda, interprètes et assistants au remontage
Dominique Genevois et Juishi Kobayashi, reconstruction
Etudiants de l'école Supérieure du Centre National de Danse Contemporaine - Angers
The concert opens with Pierre Henry's Carnet de Venise, which premiered in 2003 at La Folle Journée Festival in Nantes. In his text about this work ("Pierre Henry nous emmène à Venise"), François Weyergans wrote:

" ...What makes Carnet de Venise a capital work is the art of mixing, which, without hesitation, I see as just as important as the art of fugue.(…) From the very start, the irruption—after one minute twenty-eight seconds—of  the sounds of Venice after the voice of the soprano, followed by the electronic sounds, is a great moment in contemporary music. Once one has taken note of this art of mixing, it is a pleasure to follow it throughout the entire musical journey that brings us from Torcello to Guidecca and the Arsenal. There is, here, a source of intelligent emotion that is quite uncommon. 
Pierre Henry has pulled off this genre of mixing—great art—at each change in sequence in Carnet de Venise".

Composed by Pierre Henry at the end of his life and accompanied by a new choreography by Hervé Robbe, the "Big Remix" of Mass for the Present Time allows us to rediscover this ever-astonishing rara avis of works in a new light.

Maurice Béjart's famed ballet, Mass for the Present Time, which premiered at the Avignon Festival in 1967, certainly left its mark, particularly for the pulsating music that Pierre Henry and Michel Colombier wrote for Béjart's choreographic compositions. At the juncture between electro pop and musique concrète, this feverish, crackling music was an inventive and mischievous leap into the future. Nearly fifty years later, Pierre Henry created his "Big Remix" of this work, unveiled in January 2016 at the Philharmonie de Paris with a new ballet created for the occasion by choreographer Hervé Robbe, a student of Béjart. This remixed version is now being presented again, with sound projection by Thierry Balasse.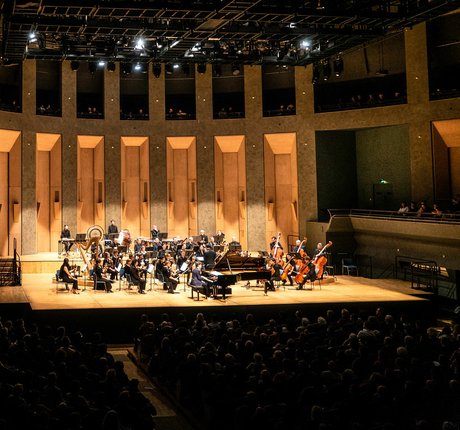 Getting here
Porte de Pantin station
M
5
Paris Underground (Métro) Line 5
3B
Tram 3B
Address
221 avenue Jean-Jaurès, 75019 Paris